my finished cowl
i finished a few days ago actually, but i've been a lazy ass about getting the pictures off the camera.
and really, the pictures don't do it justice because it's really hard to photograph a moebius without a model. but it is absolutely gorgeous (imnsho) and i hope that kamic loves it. it can be worn as a head covering, or a scarf, and apparently it can also be worn around the waist (presumably a smallish waist, because it sure didn't fit around mine).
and like i said, it needs a model, so i convinced my 3 year old to wear it for about 10 seconds.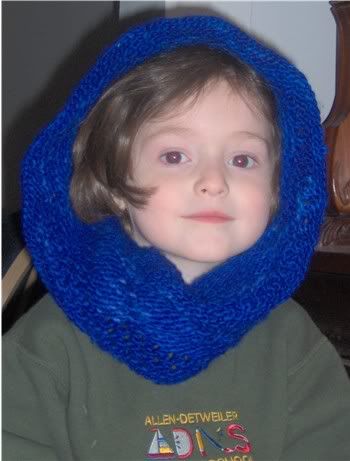 i didn't have enough yarn left over to make anything else, unfortunately. and i will concede now that this project was way too easy for an olympic endeavour. but i am very happy with the outcome regardless.
and i'll send out some very happy finishing thoughts for anyone still working on theirs :)